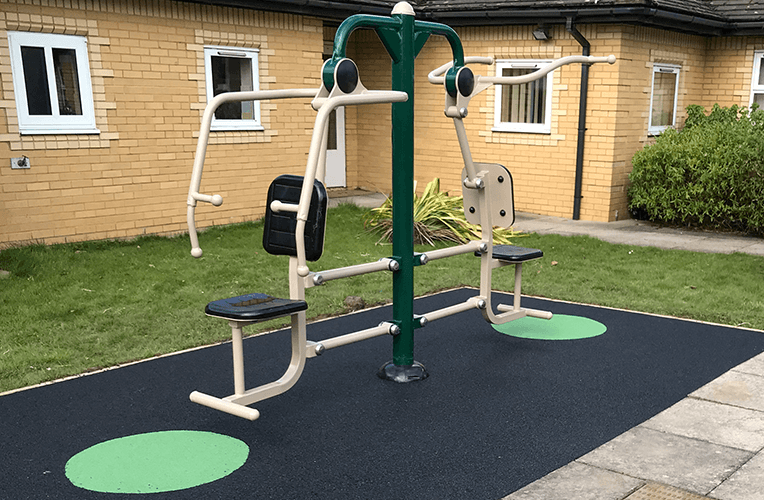 The Background
Hillis Lodge is part of the Birmingham and Solihull Mental Health NHS Foundation Trust for those people living in Birmingham and Solihull who are experiencing mental health problems. Hollis Lodge provides assessment, treatment and rehabilitation to service users with severe mental health problems who have committed a criminal offence or who have displayed seriously aggressive or threatening behaviour. Care is provided through secure inpatient units and specialist community teams. Patients range from age 18 to 65 and there are 14 beds on the site. Having witnessed the benefits of Fresh Air Fitness outdoor gyms in many other of the trusts sites, staff decided an outdoor gym was essential for their patients' recuperation. The patients needed a place they could workout in. Having an outdoor gym would prevent using space inside the building, but not only that, working-out in the fresh air would make the results even more beneficial to the patients.
The Challenge
Hollis Lodge is situated within a secure perimeter in beautiful grounds. The modern building is single story and designed to feel homely and unintimidating. The gym needed to sit neatly in a specific area where space was limited. Because the trust takes many patients of all fitness abilities, staff wanted to ensure that the gym would cater for all. They also wanted to ensure the gym echoed the welcoming feeling of the rest of the site.
Our Solution
A selection of 3 pieces from our strength and cardio range were installed into Hillis Lodge on a surface of wet pour. The products selected, a Combination Pull Down and Chest Press. This double, strength building piece that works the whole of the upper body. An Elliptical Cross Trainer, which will really elevate the heart rate and build cardio fitness. Exercises that involve cross movement, e.g. the Elliptical Cross Trainer, are particularly good for patients suffering PTSD. And finally, a bicycle, to build flexibility, balance and cardio fitness. Wet pour was used beneath each piece of equipment. Staff chose a plain black flooring with green accents, ensuring the gym was in-keeping with the surrounding space and giving it a calm, unintimidating feel.